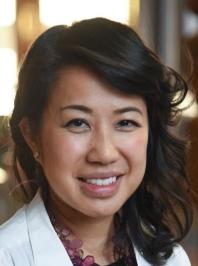 Oanh Nguyen, MD, MAS
Asst Professor In Residence
bnau.athlra@hpfs.rqh
ude.fscu@neyugn.hnao
Overview
Dr. Nguyen is a physician-health services researcher with expertise in epidemiology and implementation science. Her research portfolio focuses on understanding how social and structural determinants of health affect care delivery and outcomes for people from underserved and historically marginalized communities, and on how to overcome these factors through interventions embedded in healthcare systems and/or health care policy.
As a practicing hospital medicine physician and a safety-net hospitalist researcher, she has studied these issues primarily through the lens of hospitalization and hospital readmissions in safety-net settings. Spending on hospital care accounts for 31% of ~$1.3 trillion of annual U.S. health care spending. Reducing 30-day hospital readmissions is a priority because hospitals are financially penalized and because readmissions are frequent (occurring in 1 of 5 hospitalized patients), costly, and expose patients to increased potential harms of hospitalization including adverse drug events, hospital-acquired disability, and increased mortality. Over the past decade, there has been increasing recognition that frequent readmissions may also be a marker for increased clinical severity and social risk factors in certain populations, particularly those who receive care in safety-net settings. Her work to date has focused on understanding the influence of social determinants of health and social risk factors on readmissions and post-hospital recovery, and on developing potential interventions to address these needs to optimize post-hospital recovery.
Dr. Nguyen holds affiliations in the UCSF Center for Vulnerable Populations, Benioff Homelessness and Housing Initiative, Social Interventions Research and Evaluation Network, Institute for Health Policy Studies, and PRISE Center. Her work is supported by the National Heart, Lung, and Blood Institute, the California Health Care Foundation. She has been recognized locally and nationally for her research, receiving the ZSFG Outstanding Junior Investigator Award in 2019 and the Society of Hospital Medicine Junior Investigator Award in 2019). She currently serves as the UCSF PRISE Center Program Director for Hospital Care, was formerly a deputy editor at the Journal of General Internal Medicine, and currently serves as deputy editor for the Journal of Hospital Medicine. In 2022, she was named a Chan Zuckerberg Biohub Investigator, an independent nonprofit research initiative that empowers scientists to pursue high-risk and innovative scientific research.
Education
BS
, -
Neuroscience & political science
,
University of California, Los Angeles
MD
, - ,
University of California, San Diego
MAS
, -
Clinical Research with Specialization in Implementation Science
,
University of California, San Francisco
-
Internship & Residency in Internal Medicine
,
University of Texas Southwestern Medical Center; Parkland Health & Hospital System